All Ireland Junior Champions
Templenoe GAA Club Downloads
Templenoe GAA Social Links
Warning: getimagesize(): http:// wrapper is disabled in the server configuration by allow_url_fopen=0 in /var/www/vhosts/17/126085/webspace/httpdocs/libraries/mavik/thumb/generator.php on line 342 Warning: getimagesize(http://learning.gaa.ie/sites/default/files/Black+card+round+edge.png): failed to open stream: no suitable wrapper could be found in /var/www/vhosts/17/126085/webspace/httpdocs/libraries/mavik/thumb/generator.php on line 342 Warning: get_headers(): http:// wrapper is disabled in the server configuration by allow_url_fopen=0 in /var/www/vhosts/17/126085/webspace/httpdocs/libraries/src/Filesystem/FilesystemHelper.php on line 43 Warning: get_headers(): This function may only be used against URLs in /var/www/vhosts/17/126085/webspace/httpdocs/libraries/src/Filesystem/FilesystemHelper.php on line 43 Warning: array_key_exists() expects parameter 2 to be array, bool given in /var/www/vhosts/17/126085/webspace/httpdocs/libraries/src/Filesystem/FilesystemHelper.php on line 45 Warning: getimagesize(): http:// wrapper is disabled in the server configuration by allow_url_fopen=0 in /var/www/vhosts/17/126085/webspace/httpdocs/libraries/mavik/thumb/generator.php on line 342 Warning: getimagesize(http://learning.gaa.ie/sites/default/files/Black+card+round+edge.png): failed to open stream: no suitable wrapper could be found in /var/www/vhosts/17/126085/webspace/httpdocs/libraries/mavik/thumb/generator.php on line 342 Warning: get_headers(): http:// wrapper is disabled in the server configuration by allow_url_fopen=0 in /var/www/vhosts/17/126085/webspace/httpdocs/libraries/src/Filesystem/FilesystemHelper.php on line 43 Warning: get_headers(): This function may only be used against URLs in /var/www/vhosts/17/126085/webspace/httpdocs/libraries/src/Filesystem/FilesystemHelper.php on line 43 Warning: array_key_exists() expects parameter 2 to be array, bool given in /var/www/vhosts/17/126085/webspace/httpdocs/libraries/src/Filesystem/FilesystemHelper.php on line 45 Notice: Undefined offset: 0 in /var/www/vhosts/17/126085/webspace/httpdocs/libraries/mavik/thumb/generator.php on line 365 Notice: Undefined offset: 1 in /var/www/vhosts/17/126085/webspace/httpdocs/libraries/mavik/thumb/generator.php on line 366 Notice: Undefined index: mime in /var/www/vhosts/17/126085/webspace/httpdocs/libraries/mavik/thumb/generator.php on line 367 Notice: Undefined offset: 0 in /var/www/vhosts/17/126085/webspace/httpdocs/libraries/mavik/thumb/generator.php on line 365 Notice: Undefined offset: 1 in /var/www/vhosts/17/126085/webspace/httpdocs/libraries/mavik/thumb/generator.php on line 366 Notice: Undefined index: mime in /var/www/vhosts/17/126085/webspace/httpdocs/libraries/mavik/thumb/generator.php on line 367
Templenoe GAA Club Home Page
South Kerry League, Round 1.
Sneem / Derrynane V Templenoe.
Sun 02/02/14, at 1pm in Sneem GAA Grounds
Match is cancelled due to the poor weekend weather conditions
Details

Hits: 2604
Mouthguards are mandatory for players in all age grades, in all Gaelic football practice sessions and games. This rule has been mandatory for players in grades up to Minor since 2013 and applies to all age grades since January 1st 2014.
KEY POINTS
• Gaelic footballers in all age grades must wear a mouthguard from January 1st 2014
• It is the responsibility of each individual player to use a mouthguard
• A properly fitted mouthguard is the best available protective device for reducing the incidence and severity of sports-related dental injuries
• Players can be sent-off in a game for not wearing a mouthguard
• Players will not be covered under the GAA player injury scheme if they don't comply with the mouthguard rule
• No Mouthguard? No Game!
This document has been compiled to assist GAA Clubs, players, parents, coaches and referees in complying with the provisions of the rule.
Details

Hits: 3298
Gaelic Football Rule Changes 2014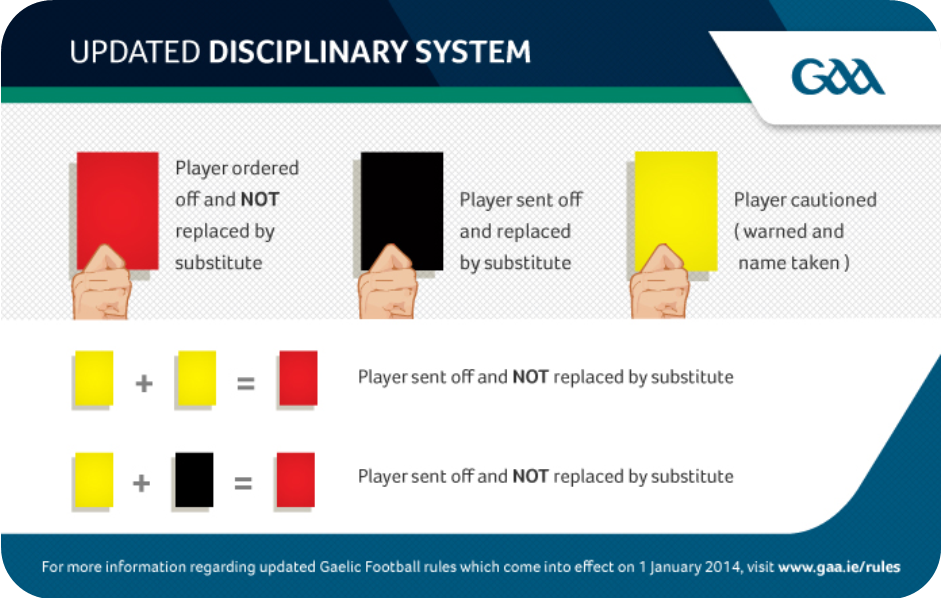 The Gaelic Football Rule Changes which become operative on 1 January 2014 are as follows:
1. Introduction of a Black Card for Cynical Behaviour Fouls.
2. Change in the number of substitutes allowed.
3. Distinction between Deliberate and Accidental Fouls.
4. Definition of the Tackle.
5. Introduction of a clearer Advantage Rule.
6. A player in possession may score a point with an open-handed hand-pass.
Details

Hits: 4126
Div 3b County Minor League

Date

Home

Away

Notes

22 Feb

Templenoe / Tuosist

Annascaul/Lispole

08 Mar

Laune Rangers

Templenoe / Tuosist

15 Mar

Listowel Emmets

Templenoe / Tuosist

04 Apr

Templenoe / Tuosist

Beaufort

18 Apr

Castleisland Desmonds

Templenoe / Tuosist
Div 3 County Senior League

23 Mar

Templenoe

Ardfert

30 Mar

Annascaul

Templenoe

13 Apr

Templenoe

Dromid

11 May

An Ghaeltacht

Templenoe

18 May

Templenoe

Brosna

15 Jun

Keel

Templenoe

29 Jun

Templenoe

Lispole

27 Jul

Glenflesk

Templenoe

17 Aug

Templenoe

Scartaglin

07 Sept

Templenoe

Ballymac'

TBD

St Marys

Templenoe
South Kerry League

08 Feb

Renard

Templenoe

3pm

16 Feb

Templenoe

Dromid

2pm

02 Mar

St Michaels / Foilmore

Templenoe

TBD

Sneem / Derrynane

Templenoe
County Junior Championship

20 Apr

Templenoe

St Pats Blennerville

3pm
Group 4 County Junior Football League

16 May

Waterville

Templenoe

23 May

Templenoe

Sneem / Derrynane

30 May

Kenmare

Templenoe

06 Jun

Templenoe

St Michaels / Foilmore

TBD

St Marys

Templenoe

Venue not confirmed
The fixture list for 2014 can also be downloaded and printed by clicking here
Details

Hits: 13110
Membership fees are due for 2014.
Please contact club registrar, Sean Finnegan to pay.
The membership tor underage remains the same €10.
There is two options for Membership for Senior Members.
Yearly Membership for €40 or yearly Membership plus 2 tickets to the GAA National Club Draw for €50.
Details for the GAA national club draw can be found here or click on attached image.
Details

Hits: 2195
The Templenoe GAA Club AGM was held yesterday evening in the Templenoe Community Centre. There was a good attendance of over forty members, and the following officers were elected for 2014.
Presidents : Tom Granville/Pat Peter O'Sullivan/Arthur O'Connor and Tim O'Sullivan
Chairman : Timmy Clifford
Vice Chairman : Sean Finnegan
Secretary : Tommy Granville
Vice Secretary : Roisin Clancy
Treasurer : Phil Harrington
Vice Treasurer : Roisin Clancy
PRO : Noel O'Sullivan
Assistant PRO : Patrick O'Sullivan
Register : Sean Finnegan
Assistant Register : Aisling Harrington
Scor Officer : Mick Granville
Development Officer : To be Decided
Coaching/Youth Officer : Michael Hallisey
Co. Board Delegate :Eddie O'Sullivan
District Board Delegates : Patrick Doyle and Tomas O'Connor
Field Committee : Paddy Doyle, Chairman, Timmy Sheehan, Denis Sheehan and Billy Clifford
The Templenoe Coiste na nÓG agm will take place this evening (12/01/14) in the Templenoe Community Centre at 5pm
Details

Hits: 2606
It's that time of year again for the Templenoe Gaa Sports Prediction Quiz. Last year was a very close affair with the Shaun Lynch only winning by only a single point from Mary O'Neill and we're hoping for plenty of excitement again this year.
This year's entry forms can be found on the Templenoe web site, or from club officers and players. They can also be found in the next edition of the Kenmare News.
Closing date for entry is the 28th of February so get your entry forms in quickly along with the €10 entry fee.
The form can be downloaded by clicking on this link
Details

Hits: 2835
The Templenoe GAA Club Senior AGM will take place in the Templenoe Community Center, at 7:30pm on Saturday, 11/01/2014.
Please submit any motions in writing to the Club Secretary, Tommy Granville.
The Coiste na nOg AGM will take place on Sunday evening (12/01/2014) at 5pm in the Community center.
Details

Hits: 2460
Templenoe GAA Club would like to wish everyone a very happy Christmas, and to thank you for all the great support throughout the year..
There is very little football happening, but after Christmas we have a few events lined up to get everyone out of the house.
Sat 28th Dec: Medal Presentation at the Brooke Lane Hotel by the County Board Chairman, Patrick O'Sullivan. Doors opening at 8:30pm.
Sun 29th Dec : The Annual Charity Match for the Tim Clifford Memorial Cup. Teams are yet to be decided, but everyone who is available to play is invited to tog out.. Throw in is at 5pm in Templenoe GAA Grounds.
Tue 31st Dec: Templenoe GAA Fundraising draw. Please support this draw, and tickets can be purchased from any club officer or player during the Christmas period. The draw will take place in the Blackwater Tavern.
Templenoe GAA Club Gear:
We have the following Templenoe Club Gear in stock, which can be purchased from Timmy Clifford at the Blackwater Tavern.
Templenoe Jackets, Sizes 5/6, 7/8, 9/10, 11/12.
Templenoe Hoodies, All sizes
Templenoe Polo Shirts, Sizes S, L
Templenoe Wind Cheaters, Sizes S, M, L, XL
Templenoe Sweatshirts, Sizes S, M, L, XL
Details

Hits: 2561
Kenmare District Board and Kerry Mental Health Association
Public Meeting
on Monday 25th November 2013 at 8:00pm
in Pobalscoil Inbhear Sceine, Kenmare
Talks by Dan O'Connor and Ned Brosnan of Kerry Mental Health Association on :-
(a) Building resilience in challenging times
(b) How to identify somebody at risk of self harm or suicide and how best to deal with the situation
Please support this important meeting.
Details

Hits: 22752